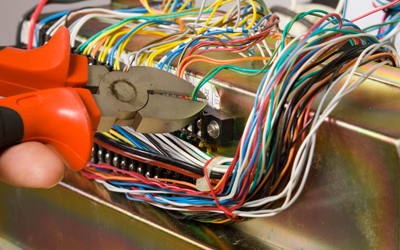 Even if you have an older home that is not build to handle today's household electrical needs, you don't consider electrical rewiring. Thus, your ignorance ends up with an electrical short circuit. Before you could get into any electrical problem, here are explained some signs to tell that your home wiring is old or damaged.
7 Signs Your Home Need Rewiring
Frayed Wires: The wires can fray due to heat, bending and corrosion. Moreover, they can also be pinched, nicked or pierced by screws.
Scorch Marks: Heat spots or scorch marks on the power outlets or switches indicate for unsafe wiring conditions.
Smoke: Unnecessary smoke from the appliances when you turn them on is a sure sign of electrical issue which should not be overlooked.
Dimming Lights: If the lights of your home become dim when you turn on other appliances like a microwave, then you are overloading the circuits which is not a good sign.
Crackling & Buzzing: Do you hear the crackling, buzzing or sizzling noises from the outlets or switches? If yes, you have to consider checking them all.
Tripping Circuit Breakers: If you frequently need to reset your circuit breakers, it is a sign that the circuit is overloaded and require improvement.
Chewed Wires: Rodents often chew the cables which lead to fire hazard in your property.
Dealing with electricity should be left to professional electricians. So, feel free to contact us at Nextgen Electric. Our team of licensed and insured electricians in Toronto can fix any electrical issue in your residential and commercial premises. We offer 24/7 electrical services to our clients, call us anytime.